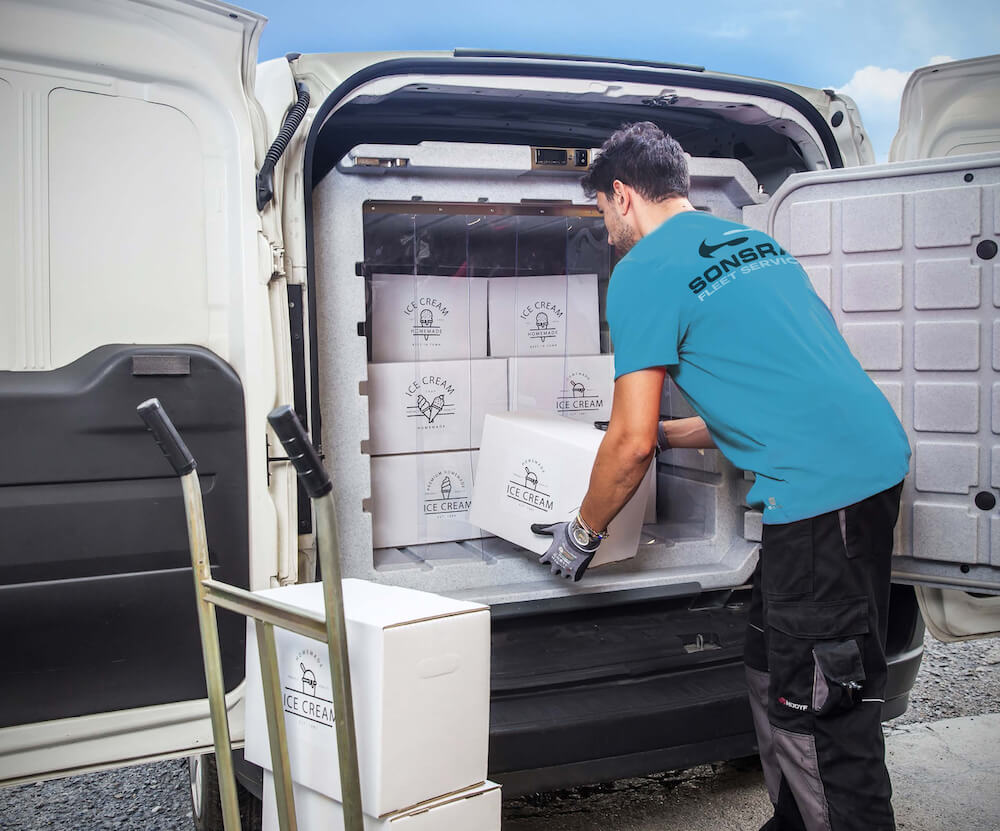 Cold Chain & Ice Cream Distribution
National Ice Cream Day July 18th, 2021
(Every Year on the 3rd Sunday in July)
In honor of National Ice Cream Day, and because we love ice cream, let's talk about cold chains. This term refers to the supply chain for temperature sensitive products. This includes things like food, and pharmaceuticals like the COVID-19 vaccine.
According to the International Dairy Foods Association, the average American eats more than 22 pounds of ice cream a year. But how does ice cream find its way to your local store shelves? 
An Ice Cream
Cold Chain
No one wants a truck full of leaking, sticky melted dessert. A cold chain works to maintain perishable products at a consistent temperature. This supply chain stretches from production to final destination. Maintaining the appropriate temperature is key for the texture and flavor of the product. Above all, it is essential for food safety. A cold chain works to create an unbroken series of refrigerated transportation and storage.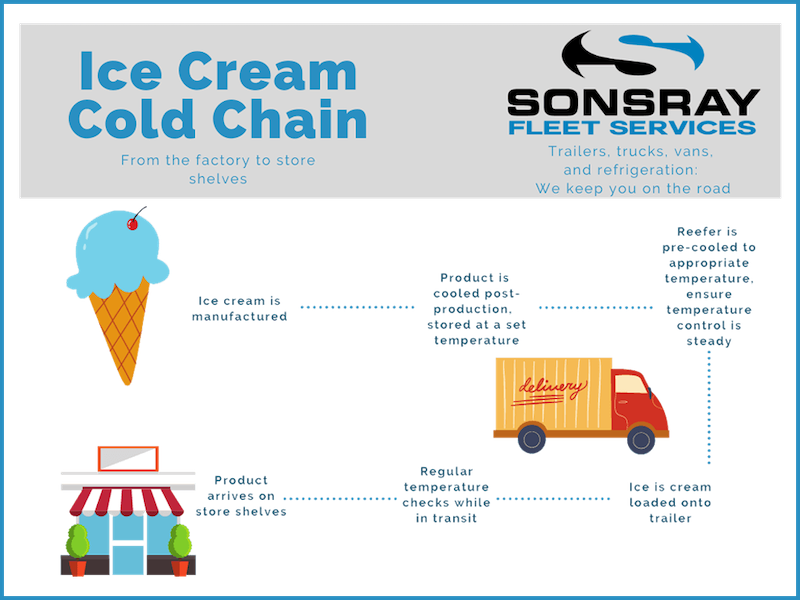 Why is
Temperature Control
So Important?
The risk of adverse temperatures is highest during transit. Reefers are an important part of successful large-scale ice cream distribution. 
Thermo King offers a TracKing system to help you remotely monitor your trailer's temperature. Systems like this are great tools for temperature control. If the temperature of your trailer fluctuates excessively, it will compromise the quality of the ice cream.
Ice cream shipping is usually conducted in the range of -0.4 to -13°F. We all know that if you heat ice cream it will melt. But what does this mean for ice cream as a consumer product? 
As the temperature rises, the ice crystals will melt and collapse any air pockets. Once this process occurs, there is no going back. When you re-freeze the product, the ice crystals are irreparably larger. Plus, lactose crystals form. The result is ice cream with a sandy, gritty texture. 
The loss of air also has an impact. Air content in ice cream is essential to it's texture and flavor. The American Chemical Society compares the air in ice cream to creating whipped cream. The structure of a food can have a big effect on the taste. Plus, the air in ice cream regulates the rate at which you taste it. 
Without accurate cold chain technology to ensure temperature control, you could end up with ice cream no one wants to eat. 
Cold Chain
Check Ups
The ice cream cold chain relies on temperature control. Perishable products are regulated for safety reasons. If your equipment fails to meet refrigerated transportation standards, the product will be unusable.This is why regular inspections of your equipment are key to your success. Routine maintenance will help you stay on top of repairs. It increases the longevity of your equipment, and helps you avoid temperature failures on the job. 
"When you own trailers, vans, or trucks with refrigeration, abiding by the manufacturer's recommended schedule of preventive maintenance will help ensure the diesel engine and the refrigeration system of your refrigeration transportation equipment remains functioning correctly.  Plus, you want to make sure proper fluid and filter changes are performed as suggested by your dealer," says Alan Grenier, Vice-President of Sonsray Fleet Services. Regular check ups will help you prevent costly breakdowns and loss of product. 
Ice cream distribution is a tricky business. But with the right equipment and support from your local maintenance experts, we can all enjoy our 22 pounds of ice cream a year.