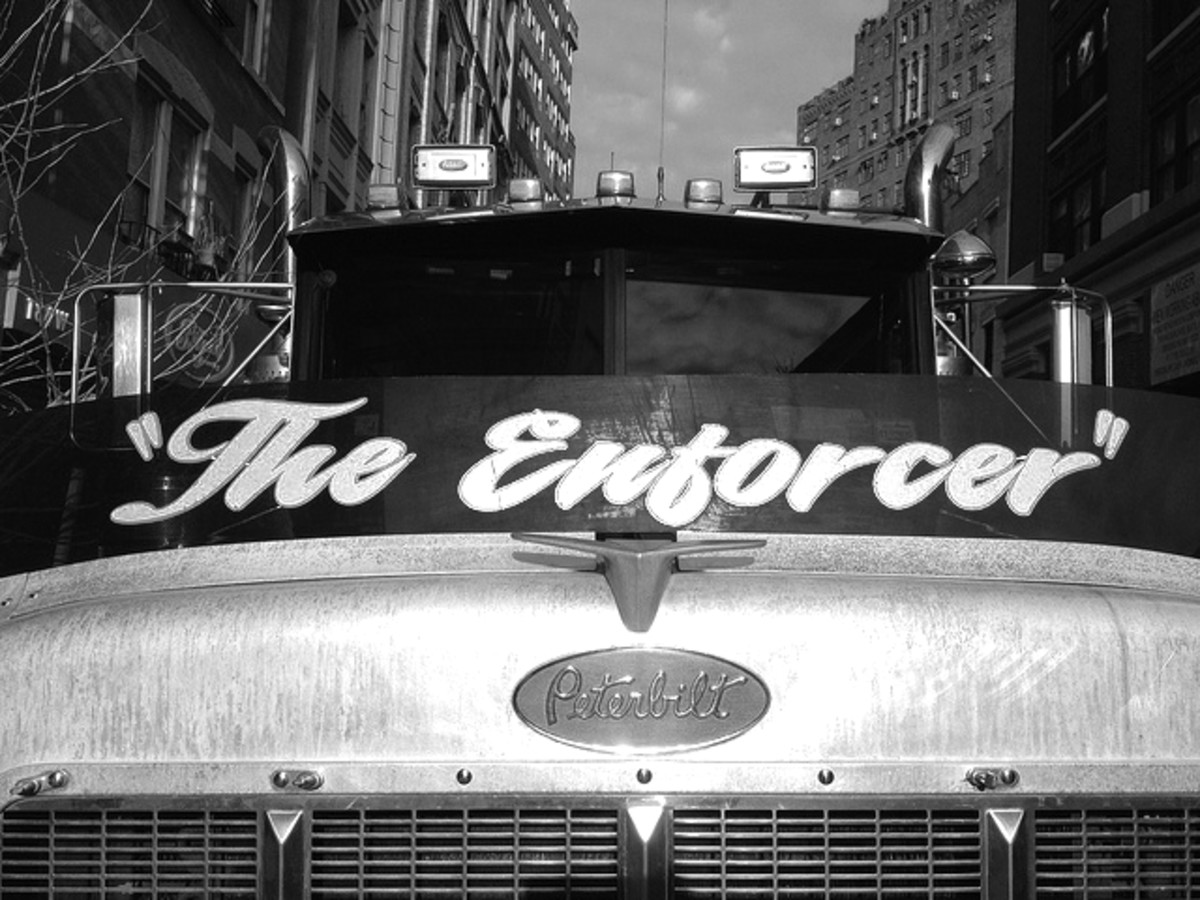 Photo Credit: Pinterest
Are Trucking Companies Allowed to Name Their Semi Trucks?
I was driving down the highway one day, seeing a bunch of sports cars and lifted trucks with all their power and glory.  Then a funny thought came to mind.  I know people tend to name their cars, their trucks and boats.  But do people name their semi trucks too?  So I decided to do some research on this subject….
It turns out naming your semi truck can be a little tricky, if you intend on displaying it.  The thing is, for many commercial trucks, weighing 10,001 or more pounds, they must have three identifiers on both sides: the company name, a federal or state number and the gross-vehicle weight ratio, so there really isn't much room for your badass tractor truck name.  This makes it easier for the authorities to ensure the truckers are following the law.  Those identifiers aren't just for semis – a tractor and empty trailer might weigh about 32,000 pounds.
Taking your trailer for routine maintenance and inspections can help you avoid any troubles with highway patrols.  Getting regular FHWA inspections save fleets and owner-operators the expense of roadside repairs, towing, down time, and fines. The necessary inspection paperwork is essential to having a safe trip without any troubles.  You can quickly and easily obtain it from your local Sonsray Fleet Services, Thermo King dealership.  Sonsray Fleet Services offers a wide menu of trailer repair and preventive maintenance services
If you're in California you will require a BIT inspection or also called a 90 day inspection.  The California Highway Patrol will want to see your records for the inspections done by a mechanic when they audit you.  The annual DOT inspection is basically the same thing except the annual DOT inspection is only required every year and is a federal regulation.
So before you decal or paint your truck's pet name, make sure you get an inspection first to ensure all the proper legal identifiers are visible and according to law.  Then you can find an ideal spot to personalize your tractor truck.  As shown on this pic, they put the semi's name on the bug visor.  Whatever you decide to name it, make sure it sounds like something you don't want to mess with or get in the way of your 18-wheeler. 
About Sonsray Fleet Services
The largest Thermo King distributor on the West Coast with 9 locations in California and Nevada equipped for sales, install, parts and service.  In addition they offer trailer repair and carry top brands of aftermarket products to keep your trailer in tip-top condition.