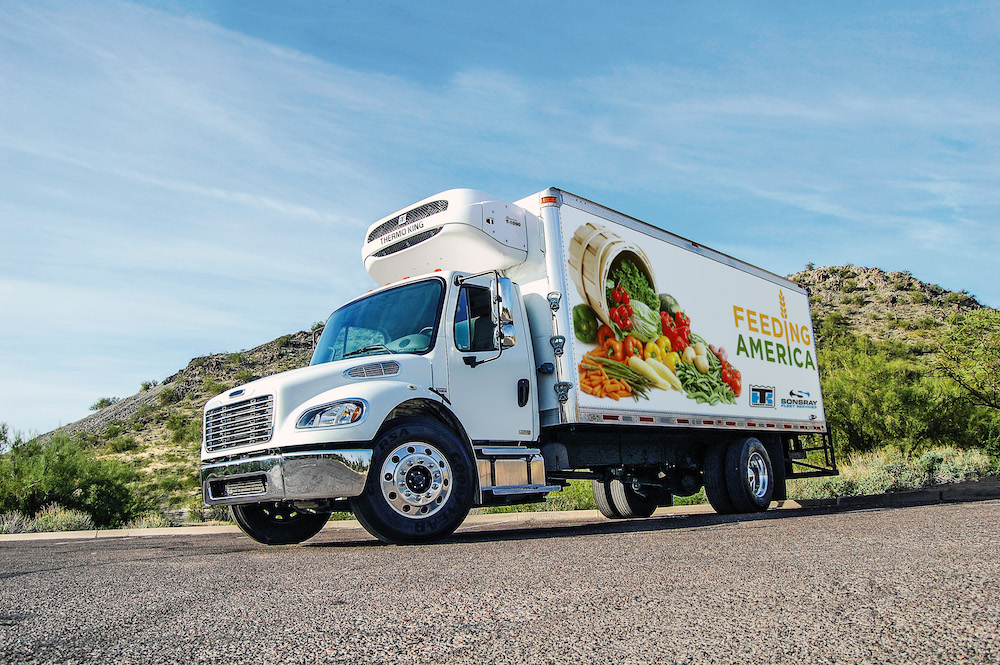 How Truck Refrigeration is Utilized at Food Banks and Other Ways You Can Help
Welcome to November, alas we can feel it already…the air feels crisper, the leaves are changing color and Thanksgiving is right around the corner.  Something interesting happens this time of year, thanks to a well-strategized marketing ploy, November marks the beginning of 'the season of giving'.  It's that time when we pull out our wallets, spend big bucks on gifts for our loved ones and food drives are being organized all over the country for those in need.  But, did you know that food drives are actually a bad idea, allow me to explain why…
First, you should know 1 in 7 families rely on food pantries to feed their families; and, while one may think donating canned goods to a food bank seems like a great idea, that's actually a terrible solution.  In fact, about ½ of all food items donated to a food bank are actually thrown away.  Truth be told, most people use a food drive to clean out their pantries and get rid of old canned goods.  So let's think about that one for a bit…donating old food, because even we won't eat it.  Others buy canned goods at retail grocery price–picking out food items as if they are the personal food shopper for people in need.
Yet, we think, the Food Bank is receiving all this FREE food, they should be grateful, right?  Well not really, there are still costs associated with all donated items.  For one, drivers need to be paid to haul all the donated items to a warehouse using truck refrigeration.  In addition, people, whether they are food bank employees or volunteers, are required to sort through all the goods to ensure they get rid of all the expired items.  One factor I want to point out is that canned food is not very healthy.  Canned food is very high in sodium which leads to high blood pressure, and those donated canned goods simply don't meet basic nutritional standards.
So although we would rather donate healthy items such as fruit, veggies, meats and breads, we simply can't because they are perishable items.  And, while you meant well with a canned food drive it is simply not the most efficient way to give.  The truth is the best way to help a food bank is to donate money.  This is because food banks buy food at a wholesale price, plus they work with local farmers taking that $1 we're spending on a canned food item and turning it into exponentially much more food.
Sonsray Fleet Services and Thermo King are proud members of the We Move Food program.  A hunger relief program developed to help reduce food waste and increase access to fresh, nutritious food for people who need it the most.  By doing so Thermo King has partnered up with Feeding America which provides reefer units and parts & service discounts for their truck refrigeration to over 200 food banks across the country.  Having truck refrigeration is essential so that food does not go to waste during transport.  In addition, through the We Move Food program, Feed America, Thermo King and the nationwide dealerships, they create various fundraisers throughout the year and over $540K has been donated from the dealerships.
No matter what your definition of giving is, it is important to know that there are many ways to bring joy during the holiday season.  Nothing is more priceless than kindness, love and your time.  Sometimes the only thing people want is to be shown support through genuine care and compassion, so volunteering and donating your time is a great option as well.  Contact your local food bank or contact your local Thermo King dealer, to find out ways in which you can help.